Shimla parking lots looting tourists : police absent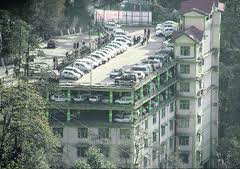 Shimla's biggest parking lot opposite the high court and hotel holiday home are fleecing tourists like mad and police and civic officials have completely failed to check this illegal activity .
Many tourists reaching Shimla for the new year celebrations are complaining of being charged almost ten times more than the displayed parking charges at this multi-storied parking lot in the heart of the hill station .
This parking lot is owned by the municipal corporation and is outsourced to three contractors for toll collection .
The official approved charges for a car is Rs 40 and Rs 50 for an SUV . But for the past few days vehicles are being charged an incredible Rs 400 for only six hours .
As parking space is hard to find in Shimla during this busy tourist season many visitors complained to Sun Post that they had no choice but to dish out the money for which no receipt is issued .
One local was asked Rs 300 but he bargained and was only charged Rs 100 for parking his car which is still two and half times more than the approved charges .
Generally locals are told there is no space while hapless tourists are allowed to park but only after they pay a fortune .
There are no policemen or officials of the municipal corporation present to check this illegal activity.
Shimla mayor Sanjay Chauhan who is out of town told Sun Post he had received similar complaints and had asked the municipal commissioner and assistant commissioner to take steps including posting of policemen at this parking lot .
Shimla deputy mayor Tikender Panwar said the corporation had received complaints during the last few weeks and the contractor had already been penalised Rs 10,000 each .
Complaints of rampant overcharging by other parking lots are also common .
Parking has always been a major issue in Shimla particularly during peak winter season and high summer when tourists in large numbers flock into the hill station .
Often parking isn't available , and if you find place overcharging is normal . If you park on the roadside you are quickly challaned or worse the vehicle is toed away at your peril .