Nauni student group fly to AIT Bangkok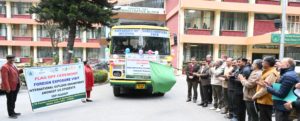 Shimla: A 32-member student contingent of Dr. YS Parmar University of Horticulture and Forestry, Nauni was flagged off today for the month-long International training programme at the Asian Institute of Technology (AIT) Bangkok.
Professor Rajeshwar Singh Chandel, Vice-Chancellor flagged off the bus to Delhi from where they will be boarding their flight to Bangkok.
 
While addressing the students UHF Vice-Chancellor thanked the Government of India and the ICAR for envisioning such a programme that gave opportunities to undergraduate students to learn from the best institutions in the world.
He asked the students to utilize the opportunity to learn the best practices at AIT and also use it to showcase the cultural heritage of the country and state. He congratulated Dr. KK Raina, PI IDP and the whole team for arranging this training programme. Earlier the students had a virtual interaction with the faculty of AIT.
 
The students will be enrolled in the 'Technological Advancements Toward Sustainable Development of Horticulture and Forestry' course at the Department of Food, Agriculture and Bioresources, AIT.
A total of 32 students, 16 each from the Horticulture and Forestry disciplines covering two colleges from the main campus and the constituent college at Neri have been selected for programme based on their academic performances.
The students will be accompanied by Dr. Anil Sood and Dr. Meenu Sood. The training programme is being organised under the ICAR National Agricultural Higher Education Project's (NAHEP) Institutional Development Plan.