Himachal top official's arrogant orders on the road wall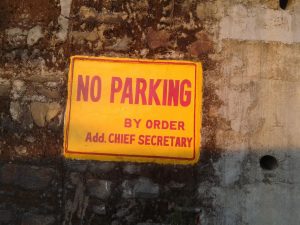 Shimla : Near the government house of an additional chief secretary , on the wall of a public road in this Himachal Pradesh capital is a strange sight catching everyone's attention .
In a display of VIP and feudal culture a top IAS officer has painted a warning on the wall overlooking the road ordering people not to park below this sign.
The sign shouts in red , "No Parking , By Order , Addl Chief Secretary."
This appalling order is the talk of the passers by and many more in the Old Brockhurst residential area located close to the state secretariat .
Many are asking why wasn't a sign 'no parking' enough. What was the need for one of the state's senior most IAS officers of the rank of an additional chief secretary to put out his order in such a manner at a public place .
When Sun Post spoke to sources in the state government they said there was no such provision in the service manual .
In fact some top IAS officers are calling this painted order : arrogant , ridiculous and comical !