Green activist raps Himachal govt on forest fires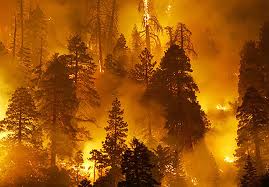 Shimla : Nature Watch India on Thursday severely criticised the Himachal Pradesh government for allowing forest fires to rage across the state .
"Devastating fires have engulfed jungles all over the state this summer and the state government has done virtually nothing to check this menace ,"  said Rajeshwar Negi , national convenor , Nature Watch India .
"The forests are systematically being decimated and the government has not bothered to take any steps to stop this ecological disaster ," Negi told Sun Post
Loss put at only Rs 2 crore is pathetic and only shows the complete apathy of the forest department even as  irreparable damage has been caused to the environment ," Negi alleged .
He said the loss caused by these blazes to the flora and fauna is so widespread that it cannot be quantified.
"Nature Watch believes fires are the biggest cause of forest degradation yet the forest department continues to live in denial and every year highly downplays the damage ," he said .
Nature Watch has demanded that an independent forest fire prevention wing be created headed by a senior officer.
"This officer should at least have a minimum annual budget of Rs 25 crore and powers to arrest , penalise and prosecute all violators ," he said .
"Two battalions of forest protection force should be created for preventing these fires besides deputing home guards and IRB staff be deputed on forest protection duty ," he said .
He has also demanded that controlled burning be stopped as worldwide studies have proved that such measures cause soil erosion and ecological degradation .