Govt fails but sunshine brings relief to Himachal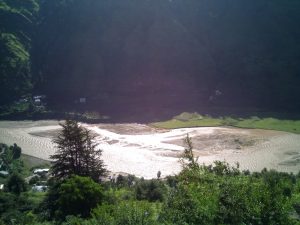 Shimla:Dry days in the last week of August has come as a big relief to people of Himachal Pradesh after torrential rains in July and much of August.
The bright sunshine in the past few days has helped dry up mud soaked roads.Where the government has failed the sun has has succeeded.
The condition is particularly bad in the apple belt where roads and orchards have suffered extensive damage.
The dry weather has speeded up the harvest which is at its peak now.
The dreaded Theog-Hatkoti road has also dried up in patches helping apple loaded trucks to move out of the region.
Farmers are hoping the dry weather forecast in the next few weeks turns out to be correct and they are able to finish the harvest.
The lazy, incompetent and corrupt government has failed like always!