Digging work threatens Shimla's Oberoi clarkes hotel !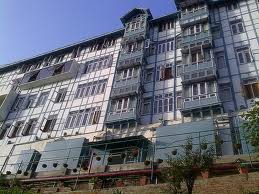 Shimla : A wall and a portion of the terraced gardens of Shimla's well known heritage hotel the Oberoi clarkes have collapsed Tuesday .
Hotel owners are worried more landslides could take place down the hill with the arrival of the monsoon and threaten the building .
This 115 year old clarkes hotel is the first hotel purchased by its founder M S Oberoi .
The Oberoi group of hotels  founded in 1934 now has 28 luxury hotels and 3 cruisers in five countries .
The damage to clarkes gardens and wall has been triggered by digging work recently started below the hotel to build chambers for Shimla's lawyers .
Some weeks ago a major section of the road had caved in below the hotel, but the road and wall repair work has not been going on for a while .
The Oberoi group of hotels has three properties in Shimla . Along with Clarkes , Cecil and Wildflower Hall .
It is located in the heart of the town at the edge of the Mall and faces the Himachal Pradesh high court building .