Forest fires back in Shimla , Himachal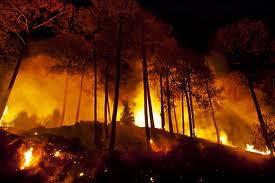 Shimla : Barely two days after rain in Shimla and most other parts of Himachal Pradesh surprisingly the forest fires have returned Wednesday
The thick tara devi oak forest facing Shimla is on fire again. The horizon is all smoky and grey .
Once again the state's forest department and volunteers have been caught napping . They have not even made an attempt to put out these fires .
What has surprised many is how have the fires returned so fast despite heavy rain spell earlier this week .
Reports of fires have also come in from many other parts of the state .
And the state cabinet of P.K.Dhumal only shed crocodile tears over the weekend and passed a resolution saying it is concerned about the forest fires .
What has surprised many is how come these summer fires return only in those areas where outsiders have reportedly illegally bought land to build apartments and houses .
These areas are near tara devi , annandale , kuchi ghati among other places . Last week there were seven fires in the Shimla suburbs  the forest department failed to douse them , the rain a couple of days put these flames out .
Many suspect these builders have hired petty criminals including local villagers to start these fires and destroy the forests .
But the entire government sitting in Shimla only watches and does nothing !
File Photo