24 washed away by Beas in Himachal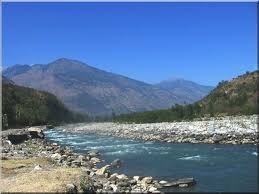 Shimla :At least 24 people are feared missing after they were washed away by the sudden rise of the Beas river in Himachal Pradesh's Kullu valley, late Sunday.
"Rescue teams are looking downstream for the missing in the dark.They are engineering students of the VNR college Hyderabad," said Himachal transport minister G S Bali .
"The students had got off the bus to take photographs at the edge of the river at around 7:30 pm when the sudden rise of the water washed them away," the transport minister said.
Angry locals and tourists have blocked the traffic on the busy highway saying why wasn't a warning issued before releasing the water from a dam upstream.
"The water was released by the Larji power project dam," said Rakesh Kanwar , a senior state government official (D C Kullu).
The students were travelling to the popular resort of Manali by bus , local police said .