Yogi meditating atop Churdhar in 10 feet snow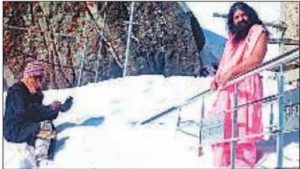 Shimla: Three men including a sadhu are living on the 11,9565 feet high Churdhar peak(Chur Chandini) which is under around 10 feet snow in Sirmaur district of Himachal Pradesh.
Swami Kamlanand Giri along with a follower(chela) and the Shirgul temple pujari(priest) are living in the deep snow. The priest has even sent a picture of the Swami and the priest.
Like every year food supplies have been stored well in advance.There is even provision of a generator to generate power to light a few bulbs local newspaper reports say.
Snow is melted for the water needs of the three men.While the Yogi spends most of the time meditating, his follower carries out the daily chores. The priest of the temple regularly conducts the puja ceremony besides other work in the temple premises.
This year's snowfall has been one of the heaviest in many years in the region including Churdhar the highest mountain in Sirmaur district.