Yash Chopra rides into the sunset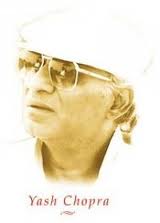 One of India's most popular and prolific filmmakers Yash Chopra has decided to retire from films at the age of 80  . He told Shah Rukh Khan on NDTV ,  Friday .
Even though he earned more fame worldwide for his films in the 90s and 2000s . I think his best work was in the 1970s when he worked with Amitabh Bachchan .
"I think the script of Deewar by Salim-Javed was the best script of all my films ," Chopra told Shah Rukh .
This was followed by Kabhi Kabhie and Trishul all starring Amitabh Bachchan . An earlier film Waqt (1965) brought him a lot of acclaim .
He made a lot of his later films with Shah Rukh Khan including "Dilwale Dulhaniya Le Jayenge" which was a super hit .
Born in Lahore in 1932 he came to Mumbai in the 1950s and began assisiting his brother BR Chopra in filmmaking.
To me Yash Chopra's movies stand out for their romance ,  great music and lyrics , punjabi culture and beautiful locales .
While earlier it was Kashmir , his later movies were set in picture perfect Europe and are very popular with the diaspora from India and Pakistan .