Himachal govt sleeping , key Shimla road still not repaired !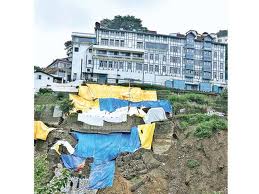 Shimla : It has been three months and work has still not started to build a section of the road which was washed away at the edge of the Clarkes hotel in this Himachal Pradesh state capital .
When a building company began work to build offices for lawyers here the road caved in threatening the 115 year old heritage hotel , the Oberoi Clarkes.
Immediately the hotel was emptied and shut by the owners .
Also traffic since then has not able to ply on this key road which connects to the high court parking and the state secretariat , US club , Richmond and the Mall among other important places .
The civic authorities say it is not our responsibility but the job of the state government to repair this road .
Criticising the state PWD department Shimla Mayor Sanjay Chauhan said this work should have been completed in July when the landslide took place .
"It only takes four hours to install a bailey bridge . Important people like the chief minister , chief justice and a host of other VIPs travel on this route and yet the road has not been repaired ," Mayor Sanjay Chauhan told Sun Post .