Winter 2013 sets early in Himachal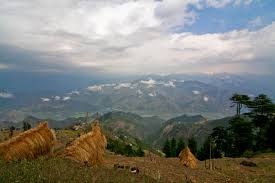 Shimla : Winter has set in a fortnight or so in advance in the middle and higher hills of Himachal Pradesh , with fresh snowfall at many places Thursday .
Sources from Manali told Sun Post it had snowed over a foot on the 13,050 ft high Rohtang Pass the gateway to the tribal Lahaul valley .
The 15,000 ft high Kunzam pass leading to the dry mountain tribal Spiti valley recorded 2 feet of snowfall.
The snowfall and sleet was watery and' has blocked vehicular traffic at many places on this high mountain road sources added .
The high ranges in tribal Kinnaur and Chamba along with Kullu and Shimla ranges received snowfall .
But the popular resort towns of Shimla and Manali received rainfall . Shimla recorded a high of 14 C . Una in the foothills recorded the highest temperature of 25 C.
The weatherman has forecast more wet weather in the next couple of days .