Will Shimla police really catch the big thieves !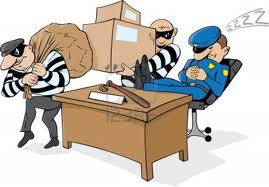 Shimla : After groping in the dark the Shimla police claims to have caught a few people who it says are part of a huge gang of thieves who have committed dozens of thefts in this Himachal Pradesh capital .
 Local vernacular newspaper reports quoting police officials say this gang has committed dozens of thefts all over Shimla and have stolen cash and goods amounting to Rs 70 lakh .
 Police even claims to have found almost half of this booty from these thieves even as the hunt for all the gangsters continues .
 One daily has even quoted the Shimla district police chief Abhishek Dular as saying very soon all the thieves will be rounded up .
 Shimla residents are waiting for that day !