Virbhadra's Xmas on Shimla's Ridge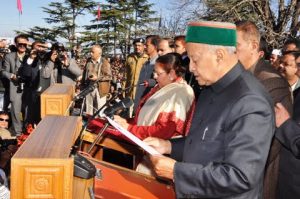 Shimla : Congress's veteran Virbhadra Singh took over as chief minister of Himachal Pradesh for a record sixth time on a chilly Christmas morning at Shimla's Ridge ground Tuesday with thousands of people looking on .
The 78 year leader was administered oath by Governor Urmila Singh followed by the blowing of trumpets and other traditional pahari musical instruments .
Singh took over as chief minister for the first time in 1983. Elected first to the Lok Sabha in 1962 he has been minister several times in the federal government .
A day before he took over as chief minister (on Monday) Mr Singh was acquitted of charges of corruption and conspiracy in the much-publicised audio CD case by a Shimla court.
Belonging to the erstwhile princely state of Rampur Bushahr he was briefly a boy king of his state before independence .
Nine ministers also took oath . Vidya Stokes , Kaul Singh , G.S.Bali , Sujan Singh Pathania ,Thakur Singh Bharmauri , Mukesh Agnihotri , Sudhir Sharma , Prakash Chaudhry and Dhani Ram Shandil
The Congress beat arch rival BJP in the assembly elections. In a house of 68 the Congress won 36 seats , while BJP got 26 seats .