Was Dhumal govt spying on its own people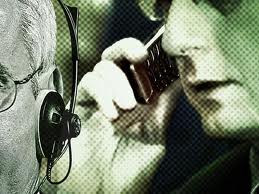 Shimla : Was the former P.K.Dhumal led BJP government in Himachal Pradesh tapping the phones of top politicians , officers , businessmen , journalists among others during the past five years .
This will be soon known once the newly formed Congress government of Virbhadra Singh is able to run through the records and cough up records of the state police department .
On Wednesday eight computers in the vigilance department and four in the CID headquarters were seized . They were being used by key officers of the rank of DIG , SP among others , say sources .
In the wee hours of Tuesday a phone tapping machine was seized by the police after reports that attempts were being made to destroy some recordings .
The room in the CID headquarters was sealed to prevent further destruction of recordings .
Chief minister Virbhadra Singh said the machine was misused to record conversations of political opponents of the BJP on the orders of the former chief minister Dhumal.
The hard disc is being examined by experts of the IT department . If needed it could be sent to an IT lab in Hyderabad sources said.
Virbhadra Singh took oath along with nine ministers on Tuesday . One of the first steps of the new government was to transfer some top police officers .