Virbhadra Singh the old warhorse back in the saddle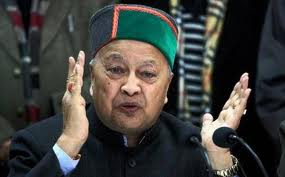 Shimla : After being down and out Virbhadra Singh fought his way back in the last few months and won Himachal Pradesh for a beleaguered Congress . He is now set to take over as chief minister for the sixth time .
After stepping down as union minister earlier in the summer Virbhadra , 78 , had to camp for days in Delhi and convince the Congress high command to appoint him as the state Congress party chief,  only a couple of months before the state assembly elections .
And it was less than a month before the polls he organised and enthused the party cadres and actually started touring and canvassing the length and breadth of Himachal. Against a much more organised opponent arch rival the BJP led by P.K.Dhumal .
The election campaign was bitterly fought with allegations and counter-allegations flying from both sides .
But a proof of his popularity was the number of people who turned up for his rallies across the hill state which seemed to indicate he might swing the tide in his favour.
Unusually calm after his victory Virbhadra did not rush to Delhi but chose to hold the CLP meeting in Shimla where he was backed by most of the MLAs for the top job .
Late Saturday the team of senior Congress leaders from Delhi including Delhi chief minister Sheila Dikshit and AICC general secretary Janardhan Dwivedi reported to Congress chief Sonia Gandhi
Interestingly , within an hour or so Sonia Gandhi telephoned back and asked Virbhadra to take over as chief minister .
Sources say Virbhadra is set to take oath on Christmas morning on the Ridge which will be cold but bustling with holiday makers .