Dhumal planned oath ceremony in Dharamsala cricket ground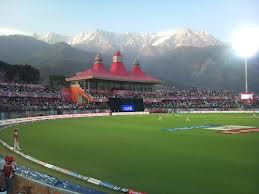 Shimla : Sure of his victory in the state assembly elections outgoing chief minister P.K.Dhumal was set to take his oath in the cricket stadium in Dharamsala on 27 Dec , 2012 , sources told Sun Post .
On Dec 30 , 2007 , P.K.Dhumal took his oath as chief minister on the Ridge in Shimla .
This time Dhumal wanted a change of venue and chose the  Dharamsala cricket ground in the Kangra valley .
Flanked in the background by the majestic Dhauladhar mountains this stadium is considered one of the most scenic in the world .
But alas Dhumal lost the election and instead the BJP will now meet under him here Monday to look into the reasons of its drubbing at the hands of the Congress .
Sources say Congress' Virbhadra Singh's oath ceremony will take place on the Ridge on Christmas morning .