Virbhadra appoints 6 chief parliamentary secretaries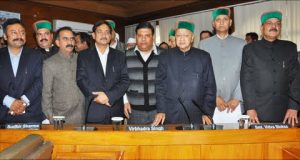 Shimla : Half a dozen chief parliamentary secretaries(CPS) were given oath by the Himachal chief minister Virbhadra Singh here Monday .
 All are relatively young MLAs . Two of the CPS are from Shimla district the home district of the chief minister and one from Hamirpur district .
 Jagjivan Pal from Sullah assembly seat in Kangra , Rakesh Kalia from Gagret , Una . Nand Lal , Rampur Bushahr seat in Shimla, Rohit Thakur Jubbal & Kotkhai seat ,Shimla .
 Sohan Lal from Sundernagar , Mandi and Inder Dutt Lakhanpal from Badsar , Hamirpur district .
The CPSs will be attached to the following ministeries and departments. Jagjivan Pal , IPH . Rakesh Kalia Ayurveda .Nand Lal ,Health. Rohit Thakur , Power and Agriculture . Sohan Lal, Rural Development and Panchayati Raj and Inder Dutt Lakhanpal gets Rural Development .
 One berth is still vacant in the Virbhadra cabinet and there is much speculation here about who all are in the run for this vacancy .
 When asked Virbhadra said , "The ministerial berth will be filled in at an appropriate time ."
 Asked about declining to accept the honorary doctorate by the Himachal Pradesh university , the six time chief minister said , "I don't need an honorary degree from the HP university as I have been awarded enough by the people of the state ."