Tuff triangular fight for Shimla civic polls on May 27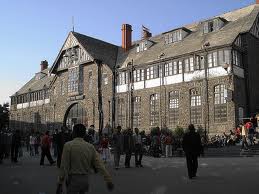 Shimla : The Shimla civic body is all set for a close election contest on May 27 , as campaigning drew to a close on Friday .
Observers say the country's oldest civic body has perhaps never attracted such an interest .
This time the mayor and deputy mayor are directly fighting the election . In the past these two were elected by the elected councillors .
In the past the main contest was between arch rivals the Congress and the BJP .
But this time the CPIM is fighting the polls with two powerful candidates Sanjay Chauhan and Tikender Panwar for mayor and deputy mayor .
Clearly threatened by the CPIM's entry the much larger parties the BJP and the Congress have put in a lot of effort in the last two weeks .
Chief minister P.K.Dhumal and his ministers have been campaigning hard on the winding streets of Shimla trying to woo the voters .
On the other hand the entire Congress has also overrun Shimla streets including two union ministers Virbhadra Singh and Anand Sharma along with state party president Kaul Singh and leader of the opposition in the assembly Vidya Stokes .
Interestingly since the Shimla municipal committee became a corporation in 1986 Congress has always held on to power .
The BJP claims this time it will topple the Congress .
The election issues have been water shortage , congestion , lack of parking lots , inability of governments to spend central funds on the beautification of the hill station .
These elections are also crucial as later this year the entire state goes to the assembly polls and the outcome could set the tone for these polls .
Besides the mayor and the deputy mayor , there are 25 seats of councillors , 12 of which are reserved for women . Three other seats are nominated .
The results will be declared on May 28 .