Road caves in near Himachal high court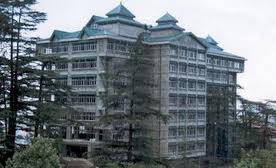 Shimla : Even though the monsoon is still weeks away but roads have begun to slide in Shimla . The road connecting the cart road and high court building caved in on Friday .
Sources told Sun Post that a patch of the road leading up to the high court parking and below the clarkes hotel has disappeared due to which vehicles are not able to reach the high court and surrounding areas .
The area below the road is being levelled to raise a building , the excavation work carried out by the builder has apparently caused the bursting of a few water pipes .
Instead of reparing the burst pipes on Thursday the water was allowed to flow all night triggering the slide early Friday .
Lazy and indifferent PWD , civic and IPH workers and engineers arrived on Friday morning to find the road wiped out .
It isn't clear how long it will take to build a wall and repair the road and restore traffic here .
Around a month ago a portion of the cart road caved in at the Chotta Shimla bazaar crossing , this was also triggered by contruction work of a parking lot by a leading builder in Shimla .
People are worried if both these roads are not reparied before the monsoon sets in more damage could take place.