To Have and Have Not , on an island with Boghart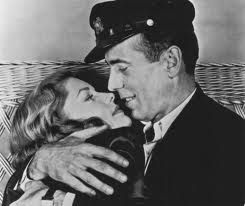 Loosely based on Ernest Hemingway's novel , 'To Have and Have Not' is set on a tiny , remote Caribbean island . Made in 1944 it followed Humpery Boghart's most acclaimed film two years ago , Casablanca .
Just as Casablanca was set in an exotic place like Casablanca in Morocco , north Africa , this one was also set in another continent , Latin America's Martinique , a French colony .
This is also Hemingway's familiar country as he spent many years in the Caribbean .
There are familiar Hemingway  themes and obsessions , deep sea fishing , a detached man Harry Morgan(Humpery Boghart) and his slow witted but sincere friend Eddie .
There is a scene where Morgan removes a bullet from the chest of a wounded Frenchman in the light of a lantern , reminding me of an earlier Hemingway famous short story 'Indian camp'.
In the story Nick Adams' father, a country doctor, has been called to a red Indian camp to deliver a pregnant woman of her baby .
At the camp, the father is forced to perform an emergency caesarean in lamp light , using a jack-knife, with young Nick as his assistant.
Remember Hemingway often wrote about how humans showed self-control and grace under pressure .
But on a lighter side this film is about romance between Harry and Marie(Lauren Bacall)the wandering tall , willowy and husky voiced American blonde , penniless on this island .
The real life romance between the two showed on screen as well . And soon after the film Bacall married Boghart .
The dialogues in the film are tight and direct like the book.