The melodious duets of Kishore Kumar and Lata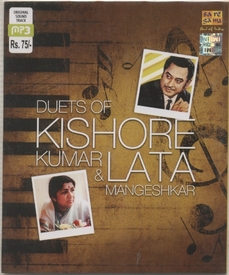 Light , fun loving 40 songs(MP3 Saregama ) but always highly melodious . They are mostly from the 1970s when Kishore Kumar was the lead male singer along with the nightingale of India Lata Mangeshkar the lead female singer since the late 50s.
There is none of the depth in lyrics of the 1950s and 1960s but for sheer melody these songs are a joy .
Notable in the collections are , "Sun Champa Sun Tara", Ab Chahe Maa Roothe Ya Baba", Hum Dono Do Premi", Kal Ki Haseen Mulaqat Ke Liye " ,"Shokhiyon Mein Ghola Jaye", "Acha to Hum Chalte Hain".
"Paas Nahin Aana Bhool Nahin Jana", Ankhon Mein Kajal Hai", Main Ek Chor Tu Meri Rani", Tere Chehre Se Nazar Nahin", Jaisa Desh Vaisa Desh".
Take a song like "Baith Ja Baith Gaye , Khari Ho Ja , Khari Ho Gaye , Ghoom Ja Ghoom Gaye—-Gaye Gaye—Baith Ja Baith Gaye ."
These are hardly any words for a song , but these two great singers carry this song with flair and high melody making it ring in your ears for a long time after you've heard it !