The Great Escape: 50 years later , still great : Review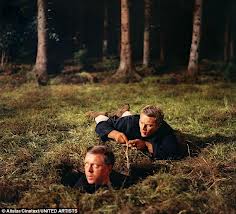 One of those grand films from the golden era of hollywood.One of those rare and lasting multi-star films of all time .
Based on a true story about the escape of allied soldiers from a German prison of war in the second world war .
Almost three hours long the film is shot in the scenic locations of Bavaria in Germany and released worldwide in 1963 .
The music by Elmer Bernstein remains one of the most memorable of all action soundtracks .
But to me The Great Escape is about camaraderie , friendship and about freedom .
Freedom , the very basic desire of every human being . To be a free one can go to any length , at any cost and at any risk .
The all male cast starring some of the all time action greats of hollywood : Steve McQueen , James Garner , Charles Bronson , James Coburn , James Donald , Richard Attenborough to name a few .
The images which stay with you long after you've seen the film are the secret digging of underground tunnels by the prisoners .
Led by Flight Lieutenant Danny Velinski(Charles Bronson) known as 'Tunnel King' as he digs his 17 th tunnel despite his phobia for enclosed places .
Then the excitement and perils of the escaping 76 men from this heavily guarded prison into the dark woods . Then by train , car , plane , motorcycle , bicycle , boat and foot .
The majestic snow clad Alps in Switzerland within tantalizing reach of two overjoyed escaping men on a two seater plane .
But the next moment the plane crash lands safely . Only they haven't crossed the border and the heavily armed soldiers surround them .
Steve McQueen throttling away on his motorcycle up and down the gentle rolling hills and moors of Germany with German soldiers pursuing him relentlessly .
It is said except for one stunt all his feats on the motorcycle were done by macho man McQueen . After this film both McQueen and Bronson became the biggest action stars of all time .
In the end out of the 76 fleeing prisoners only three make it to freedom . A dozen or so are brought back to the old prison . And tragically 50 are shot dead .
This film is dedicated to those 50 unarmed men who were actually brutally shot dead by Hitler's army in the second world war .