Thakur scares Pinto on day 5 of 9 MTB Himalaya
Shimla : Local rider the teenager Devinder Thakur got close to world no 9 Luis Leao Pinto on day 5 of the 9 MTB Himalaya as the riders touched the highest point of the race the Hatu peak at 3400 m .
After heavy overnight rain 60 cyclists took off Wednesday on the old Hindustan Tibet road to Baghi and Tikkar .
The highlight of the day was when Devinder Thakur of Himachal was only ten minutes behind Pinto , organisers of the race told Sun Post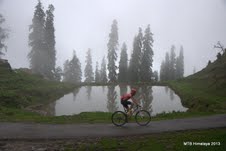 Then the riders rode back to Narkanda and took on the toughest climb to Hatu peak the highest point of the six day race .
Hatu overlooks the scenic Kotgarh and the Sutlej valley below . Located 700 m uphill from the ski resort town of Narkanda.