Day 4 MTB Himalaya Pinto takes a break
Shimla : The loose gravel and rocky stretch on day 4 of the 9 MTB Himalaya seemed to take the sap out of world no 9 Luis Leao Pinto as he was forced to take a breather mid way Tuesday .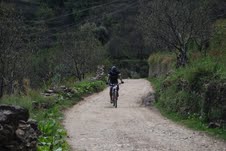 Pinto continues to lead the race. But for the first time since the race began four days ago the Portugese champion rider had to take rest mid-way , organisers told Sun Post .
Many riders were seen carrying their bikes on foot due to the hard terrain on day 4 .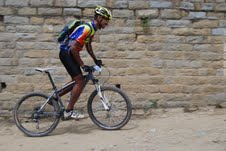 Rain continued to fall for the fourth consecutive day. The Indian army cyclists were following Pinto .
Only 60 bikers took off on day 4 . 20 bikers have already been eliminated from the gruelling race .