Teesri Kasam , a rare film about old rural India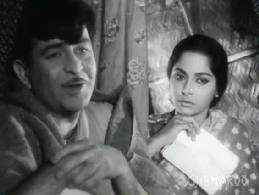 I often wonder why on earth don't they anymore make hindi films set in rural India even though two out of three Indians still live in villages . Around 700 million actually !
Instead we have films set in mega cities of India ,mostly in Bombay where the film industry is located .
In recent years more and more films are set in picturesque Europe and America . Looks like nobody has the courage to do a film about the lives of 700 million rural Indians .
Thank God at least we have the rich past to delve into . We have great treasures like Teesri Kasam, perhaps Basu Bhattacharya's best work .
Made in 1966 it is one of the best hindi rural films you will ever watch .  Starring an already ageing Raj Kapoor opposite the always beautiful Waheeda Rehman .
This to me is one of Raj Kapoor's greatest performance on screen . Remember this is not a film by the great showman himself , he only plays the lead role with flair.
Kapoor is so convincing as Hiraman , the simpleton bullock cart driver a world away from playing the tramp Charlie Chaplin .
It is such a joy to see the timeless Indian dusty rural roads connecting countless villages on the Gangetic plane.
For centuries the only mode of communication here was the bullock cart . Remember the entire film was shot on location in Araria in remote Bihar a bold move in those days .
Most of the songs are written by Shailendra who was also the producer of the film . Music is by Shanker Jaikishan .
"Aa Bhi Jaa" Lata Mangeshkar , "Chlalat Musafir" Manna Dey , "Paan Khaye Saiyan Hamaaro" Asha  Bhonsle picturised on Waheeda Rehman who plays Hirabai , the urban nautanki dancer who is also mesmerised by Hiraman the bullock cart driver .
Some of Mukesh's best songs  , "Sajanwa Bairi Ho Gaye Hamar"  , ""Duniya Bananewale"  and "Sajan Re Jhoot Mat Bolo" .