Solar lights for Himachal shepherds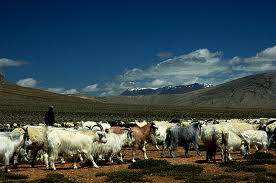 Shimla : Sheep breeders in Himachal Pradesh will be provided highly subsidised solar lights to make life easier for them it was announced here Saturday .
For each such solar light the state government will pay Rs 2550 while a sheep breeder will have to pay only Rs 150 .
The state chief minister P.K.Dhumal said each solar light after being fully charged will work for nine hours .
Sheep farming is still practiced by many farmers in Himachal particularly in the mid and high mountains of the state .
For the benefit of shepherds the state government has also provided the facility of a toll free number 1800 180 8006 to communicate their problems .
Dhumal disclosed this while opening a wool grading plant and marketing centre at Banuri in the Kangra valley built at a cost of over Rs 2.3 crore .
The wool grading plant includes loose wool carbonising plant , wool store, scientific storage of sheep wool , wool grading hall , wool press machine , perplex sheet roofing shed on open space for wool drying and other related activities .