India's best shooter from unknown Himachal village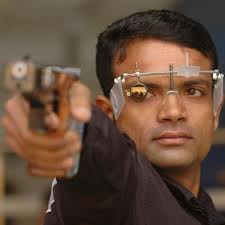 Shimla :  There is a story about Vijay Kumar who shot silver in the London Olympics this week . Soon after he won three gold in the Delhi Commonwealth games last year Himachal chief minister P.K.Dhumal invited him to his house in Shimla .
But Subedar Kumar did not have a pleasant welcome in the state capital . The traffic police in Shimla first challaned his vehicle on way to Oak Over the official residence of the chief minister.
His troubles did not end here at the gate of the CM's house the security men did not let him in .
So Vijay Kumar waited patiently outside the palatial bungalow with the crowds. After a long time when word spread that the chief minister is waiting for Kumar the security men found him sitting outside  without even complaining ,  so simple and unassuming they say the ace shooter is .
Hamirpur district is hardly known outside Himachal Pradesh . Most people think of Hamirpur in Uttar Pradesh instead of Himachal , the postal department makes a lot of errors by sending letters to UP instead of HP .
No tourist resorts in Hamirpur , no hydro-power projects here . Nondescript it lies in the foothills and people in the countryside live on subsistence farming .
But it produces soldiers in plenty (like Vijay Kumar) . It has one of the highest per capita soldiers in the country.
Kumar belongs to village Harsaur located about four hours from the state capital Shimla .
This sleepy village is for the past few days humming with activity after the ace shooter struck silver at London .
Vijay's father , retired Subedar Banku Ram Sharma and the rest of the family lives here rearing cattle and growing crops in the small fields outside their village .
In all the rush of people including a regular stream of media the family is very busy indeed receiving visitors and phone calls , television and newspaper interviews .
Soon after Kumar won silver the state government has been quick to act , by honoring him . A prize money of Rs one crore has been announced .
But reports say only last year Kumar had written to chief minister Dhumal who also hails from the same district (Hamirpur) asking why his name wasn't cleared by the government for the Himachal Gaurav Puraskar even though he was given the Arjuna Award in 2006 .
The state government eventually did announce the Himachal Gaurav award last year , four years after he won the Arjuna award .
His family says shooting is an expensive sport . Even though money has been coming in only last year he had to buy two pistols which cost Rs 10 lakh .
His achievements are huge , at 27 he has already won 17 gold in international events and 80 gold in national events. And he still has a long way to go .