Teen Devian : flavour of the 50s and 70s !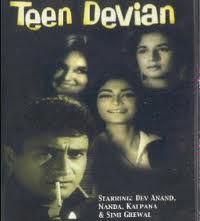 Even though Teen Devian(starring Dev Anand) was made in 1965 , strangely this film has a 50s and early 70s flavour .
Oddly it doesn't remind you of the 1960s films , I wonder why . The black and white mystery , the high standard of the lyrics and the sweet melodies of S D Burman all belong to hindi cinema's golden era a decade ago .
But a no more boyish Dev Anand , the somewhat westernised Kishore Kumar songs and the light story of the film takes you a decade ahead .
Listen to these two best songs of the film(by Rafi) and you know you have leapt back by a decade . Aise to Na Dekho , Kahin Bekhayal Ho Kar .
Then there is Khwab Ho Tum Ya Koi Haqeeqat (Kishore Kumar) Likha Hai Teri Ankhon Mein,  Uff Kitni Thandi Hai Ye Rut (Kishore & Lata) and Are Yaar Meri Tum Bhi Ho (Kishore & Asha) .
Directed and Produced by Amarjeet , the story is narrated by Ameen Sayani . It stars Dev Anand , Nanda , Kalpana and a very young Simi Garewal .
Interestingly all the characters have their real names in the film as well .