Team Anna ignoring corrupt Sonia Gandhi: Swamy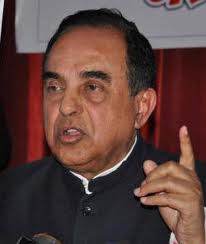 Shimla : Activist and Janata party chief Subramanium Swamy on Monday launched a scathing attack on Team Anna for sparing UPA chief Sonia Gandhi saying she was entirely responsible for rampant corruption in the UPA.
"Why is Team Anna only targetting prime minister Manmohan Singh and his ministers but ignoring UPA chief Sonia Gandhi who is responsible for promoting and ignoring large-scale corruption within the ruling UPA ," Swamy said here .
"Why isn't Sonia under the scanner of civil society as she controls this government , besides she also enjoys the status of a cabinet rank minister , why isn't she being probed," he said .
"My message to Anna is why are you playing into Sonia's hands . She wants Manmohan Singh to step down and would be too happy to bring in a novice like Rahul Gandhi in his place(as PM) which could spell disaster for the country," the Janata party chief said .
"Although I am in favour of bringing in a strong Lok Pal , but please remember I have proved it is possible to get justice and expose people under the prevailing laws ," he said .
Asked if he agreed with Team Anna's view that they would support Sonia Gandhi if she brings back 70 lakh crore black money stashed away in foreign banks .
He said , "Sonia will never bring back the black money from foreign banks , how can she and her family have huge amounts of money in her name in these secret accounts ."
He further accused her of bringing in proposed 4.5 per cent reservations for muslims saying he would fight against this move .
"I am against providing reservations on the basis of religion . At best the needy should be provided free education , coaching and other facilities but not reservations ," he said .
He said the UPA government was entirely responsible for allowing the rupee to fall against the dollar as the government had allowed around one lakh crore money to move out of the country by the hawala route in the last three months .
"All these hawala transactions take place in Dubai . Pakistan's ISI knows all the details about these transactions . And since many UPA ministers are involved the ISI is blackmailing them and which is why the UPA is so soft on Pakistan ," he said .
He said he was opposed to the Communal & Targetted bill proposed at the behest of Sonia Gandhi . This he said was anti hindu .
Talking about targetting the home minister P . Chidambaram he said he has 19 documents against him and these could land him in jail for 150 years .