SJVN pays Rs 237 crore dividend to Himachal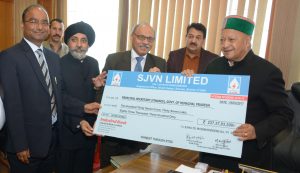 State run PSU SJVN Ltd has declared an interim dividend of Rs 930 crore to its shareholders, officials said Saturday.
The power company has paid interim dividend of Rs. 237 crore to Himachal government which has 25.51 per cent equity in the company.
While Central government holds 64.46 per cent equity. It received Rs 599 crore as interim dividend, Rs. 93.37 crore is paid to public shareholding.
Last year the company paid dividend of Rs. 455 crore to its shareholders.
While handing over the cheque to the state government SJVN chief R.N. Misra informed said in the current fiscal it has targeted to generate 8700 million of electricity.
Hydro Power is the core strength of SJVN and the company has the distinction of implementing India's largest 1500 MW Nathpa Jhakri Hydro Power Station in Himachal and is building other projects in Nepal, Bhutan, Arunachal Pradesh, Himachal, Uttrakhand, Bihar and Gujarat.
It has two other projects 412 MW Rampur HE Project in Himachal and 47.6 MW Khirvire Wind Power Project in Maharashtra.
SJVN has already diversified in the field of Wind Power, Thermal Power and Power Transmission is presently generating 2000 MW of electricity.