SJVN eyes Jaypee power projects in Himachal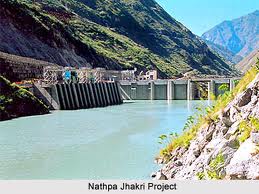 Shimla : Hydro power PSU Sutlej Jal Vidyut Nigam(SJVN) is among a host of other power companies who are in the fray to acquire Jaypee's two large projects in Himachal Pradesh if the private company exits from them.
"We understand Abu Dhabi Water among others are interested in acquiring the 1000 MW Karcham Wangtoo project. SJVN is also in the run," SJVN's chief R P Singh told reporters here Friday.
Recent reports say Jaypee is keen to sell not only the 1000 MW Karcham Wangtoo project but also the 300 MW Baspa project. Both are on the Sutlej river.
SJVN already runs the country's largest hydro-power project the 1500 MW Nathpa Jhakri project downstream on the Sutlej . It is seen one of the leaders in the power sector in the country.
These two Jaypee owned power projects are estimated at Rs 9000 crore. According to reports they could fetch over Rs 12,000 crore.
The Karcham Wangtoo project is the largest hydro power project in the private sector with a capacity of 1000 MW . But often it is able to generate 1200 MW .
SJVN chief R P Singh said 95 per cent of work of the Rs 7200 crore Rampur project has already been completed.
"The target is to complete the Rampur project in the current fiscal," Singh said .
SJVN's other projects in different stages of execution are Luhri(588 MW) , Dhaulasidh(66 MW)  in Himachal Pradesh.
Devsari(252 MW) , Naitwar Mori (60 MW) , Jakhol Sankri (51 MW) in Uttarakhand. Arun(900 MW) in Nepal and Kolangchu(600 MW) and Wanchu(570 MW) projects in Bhutan.