Shimla's St Bede's college staff on strike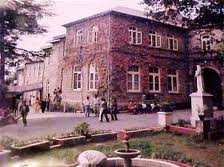 Shimla : The 108 year old St Bede's college in this Himachal Pradesh capital is passing through a crisis as the entire teaching and other staff have gone on strike against the management's decision to drastically cut provident fund(PF) .
The PF has been reduced from around Rs 10,000 to barely Rs 780 . Angered by this move the staff say they will fight against this move aggressively .
St Bede's has 950 students including girls from across the country and abroad .
The adjoining Jesus & Mary school is also on the same campus . So many girls end up spending 15 years on this campus which includes school and college at one place .
The college management says it is passing through a financial crisis for many years and cannot afford to pay such high PF to staff any longer .