Shimla's lift to Mall road shut for a week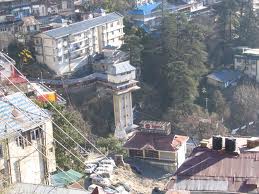 Shimla : The twin lift connecting the cart road to the Mall road uphill will remain shut for a week , officials of the Himachal Pradesh Tourism Development Corporation Limited(HPTDC) said Friday.
 It will remain closed for repairs from 15 July to 21 July. Since the twin lift ferries thousands of tourists every day from the traffic busy cart road to the traffic prohibited Mall road.
 The only option for tourists and locals will be to trudge uphill to the Mall while the lift is shut.
 The HPTDC's lift was built in the 1970s and since then is very popular with holidaymakers every day until midnight.
 In recent years the lifts have been running into problems. Last year some tourists were even stuck in one of them for several hours before they were rescued .
 These elevators are also a good source of income for the state run HPTDC .