Shimla's Peterhof hotel gets Trip Advisor award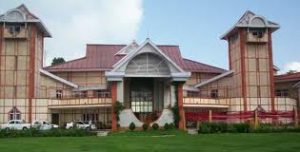 Shimla : The Peterhof a flagship hotel of the Himachal Pradesh Tourism Development Corporation (HPTDC) in Shimla has been conferred 'The Certificate of Excellence' by Trip Advisor.
 USA's Trip Advisor is the world's largest travel site in the field of excellent services and hospitality .
 A spokesman of the state government said Wednesday the international award is given to hotels that consistently achieve outstanding traveller reviews on Trip Advisor.
 Located in a scenic setting the hotel building was rebuilt after the older one burnt down in 1981 when it served as the Governor's house .
 The earlier building was built in 1863 in this once summer capital of undivided India .
 It remains the most sought after place for important state government official functions and dignitaries . It is the most popular venue for weddings .
 The majestic lawns offer grand views of the distant mountains . Peterhof is very close to the Viceregal Lodge which houses the Indian Institute of Advanced Study .