Shimla's christ church robbed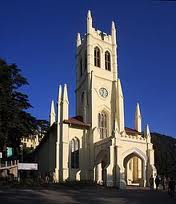 Shimla :  Located in the heart of Shimla the hill station's most iconic monument the christ church was targetted by thieves Friday who walked away with cash from the three donation boxes Friday , police said .
Although it isn't clear how much money was looted , but it is thought to be substantial .
William John , the caretaker of the church found the grill and window of broken in the morning and cash missing .
Built in the neo-gothic style this is the second oldest church in north India . It is located on the Ridge . The monument is visited by many including foreigners every day .
The pipe-organ of the church is believed to be biggest in the Indian subcontinent , it was built 113 years ago . The church has five stained glass windows .