Shimla MC gift to British siblings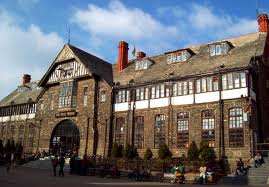 Shimla : Trying to trace their century old roots in chaotic Indian government manual records a British man and his sister never imagined it would be so easy.
Miraculously it only took a few minutes for the Shimla civic body to find out the birth dates of Andrew Frank born 1880 and his daughter Emma born 1909 in over a century old registers .
Andrew was the grandfather and Emma the mother of  Allan Delves and Jayna from Sussex . The two siblings were here to trace their family roots .
The Shimla municipal corporation is one of the oldest civic bodies in India and has maintained records since 1851 .
"We checked our birth records and provided birth certificates of Andrew and Emma at a nominal fee of Rs 5 per certificate ,"said Omesh Bharti incharge of the birth and death records housed in a British era monument in the heart of Shimla told Sun Post
Impressed by the civic body's record keeping Allen Delves (67) said , "The birth certificate is a precious and memorable gift to us ."
"It took around 15 minutes to find out the birth records of our mother and grandfather. We applied and collected the certificates the next morning , "said Delves .
"With the help of the birth detail records we were also able to find the houses (Errin Lodge and Oakley Grove) where our mother and grandfather lived respectively ," said Jayna .
Shimla which served as the summer capital of colonial undivided India has several gothic style monuments all over the scenic hill station .
Popular with Britons some of whom come here to look for the graves of their ancestors in the several cemeteries that dot the town .