Shimla mayor drags HP govt to court on golf courts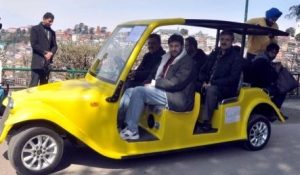 The Himachal high court on Wednesday issued notices to the state on a petition seeking permission to ply golf courts in Shimla City.
The courts passed these orders on a petition filed by Shimla mayor and deputy mayor Sanjay Chauhan and Tikinder Panwar .
They alleged that the state has denied the plying of these carts in Shimla city as it was proposed by municipal corporation Shimla on sealed and restricted roads in larger public interest.
The same was rejected by the director transport on the grounds that they were not approved by Automotive Research Association of India.
Also that these vehicles can only be plied within the enclosed premises and public roads could not be considered as enclosed premises.
The petitioners stated in the petitioner that operation of battery operated vehicle is more environment friendly because there is no burning of fuel.
The petitioner has prayed in the interim directions that the director transport may be directed to issue no objection certificate in favour of the M.C Shimla but the court has rejected the same plea at this stage.
The Court further directed the state to file reply by September 30.