Shimla jaundice rocks Himachal house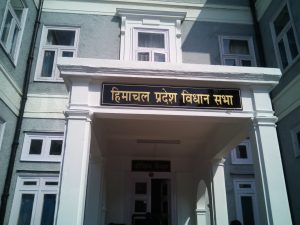 Shimla: The Himachal state assembly proceedings were dominated Friday by the jaundice outbreak in Shimla, Solan and Sirmaur areas, with angry opposition members alleging the government had entirely failed to prevent and control the disease.
The charge was led by Shimla legislator Suresh Bharadwaj who accused the government had taken the matter very lightly despite reported deaths of some 20 people and over 15,000 people being infected by the disease in the state capital alone.
He said 80 per cent of the staff of the state secretariat was infected by the disease which began spreading in December last year due to sewerage water being mixed with drinking water lifted from the Ashwani rivulet.
The nearby sewerage plant was non functional for long and the filthy water was flowing into the rivulet.
Bharadwaj said it was unfortunate that instead of tackling the problem and taking action against erring officials chief minister Virbhadra Singh was saying the problem was not so serious and was only a media hype.
"This reflects the insensitivity of the government despite so many deaths and thousands falling ill," Bharadwaj told the house.
He said since it was a criminal negligence the state IPH and UD ministers should immediately resign and action should be taken against erring officials.
He accused the government of being in a coma for the last three years.
Leader of the opposition P K Dhumal, Nahan legislator Rajiv Bindal among others spoke on the issue from both the BJP and Congress.
In reply to the discussion the state health minister Kaul Singh said the opposition was exaggerating the jaundice problem.
He said Shimla which is an international tourist destination had suffered damage to its image by these exaggerated figures of the Opposition.
He accepted there was a problem but not as much as it was being claimed by the BJP members.
The health minister claimed the government had responded appropriately to the situation and had taken many steps.
Angry with the reply the BJP members staged a walkout amid slogans criticising the government for its failure.