Road digging concern in Himachal house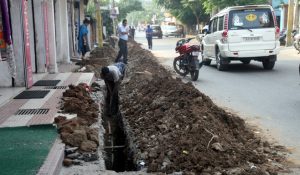 Shimla : The Himachal Pradesh government accepted that there maybe cases where guidelines were not being followed while digging roads to lay telecom cables, optical fibres and water pipes in the state.
In reply to Kullu MLA Maheshwar Singh's question chief minister Virbhadra Singh said, "Although there are guidelines for agencies to dig up only 250 metres stretch of the road and complete the process before further digging, there maybe places where it is not being followed."
Maheshwar Singh questioned the government about indiscriminate digging of road edges on national, state and village highways and roads, which was causing a lot of inconvenience to commuters. Long traffic jams and causing many accidents.
The leader of the opposition P K Dhumal alleged that the government was not aware of the facts and should ask for a ground report on this issue.
Nahan MLA Rajiv Bindal said he had raised the matter a year ago in the house. Despite being assured by the government the problem was continuing.
He said drains on the hill side and walls on the valley side continue to be broken by diggers.
Bindal said demanded that ducts should be laid to accommodate optical fibres, power cables and water pipes.