Shimla cart road cracks again, PWD sleeps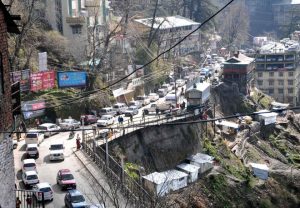 The lifeline of Shimla the cart road (circular road) has started to crack near the HPTC's lift and the nearby bridge. If the road slides it will bring traffic to a standstill in the hill station.
Heavy rains of late is causing mud to slide below the road and rain shelter and could trigger a big landslide and take away a section of the road down.
The PWD and the contractor building the multi storied parking below the road need to stop this sliding quickly.
In the past few years this stretch of the road has taken a chunk of the road stretch down so last year traffic was not able to run on this road for a couple of months.