Kullu leader quits Himachal BJP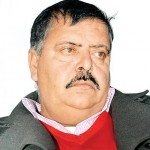 Shimla : The Bharatiya Janata Party (BJP) suffered a setback Tuesday in Himachal Pradesh's Kullu valley with Dharamvir Dhammi leaving the party .
Dhammi was quoted as saying that he has left the BJP as it did not respect party workers like him .
Some five years ago he left the Congress party with much fanfare and speculation is rife that he could return to the party and claim a ticket from the Manali seat .
Dhammi has been in politics for over 40 years and is seen as a strong politician in the Kullu valley .
Assembly polls are expected to take place in October this year .