Rs 1500 pension for Spiti women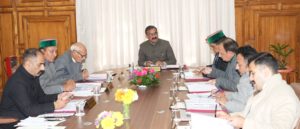 Shimla: The Himachal Pradesh government today decided to provide Rs 1500 per month as Indira Gandhi Mahila Samman Nidhi to all the eligible women of the tribal Spiti Valley including Chhomos or Buddhist nuns above the age of 18 years.
It was also decided to constitute a Cabinet Sub Committee comprising Deputy Chief Minister Mukesh Agnihotri as Chairman and Agriculture Minister Chander Kumar and Rural Development & Panchayati Raj Minister Anirudh Singh as Members to formulate a White Paper on the financial position of the state.
The cabinet also gave its nod to introduce e-stamping for the collection of stamp duty to promote ease of doing business. It decided to stop printing physical stamp papers with immediate effect and to authorize Stamp Vendors as Authorized Collection Centres.
It also gave its nod to continue with a dual system of stamps, physical stamp paper and e-stamp paper from 1st April, 2023 to 31st March, 2024 and after 1st April, 2024 physical stamp paper will be discontinued completely.
The Cabinet decided to give Rs 600 in lieu of school uniforms through DBT to all eligible students.It also decided to increase the honorarium of Nambardars in the Revenue Department from Rs 3200 to Rs 3700 per month as per the budget announcement, which will benefit about 3177 Nambardars across the state.
The Cabinet gave its nod to increase the honorarium of Revenue Chowkidars part time workers from Rs 5000 to Rs 5500 per month and it will benefit around 1950 Revenue Chowkidars.
It decided to amend Swaran Jayanti Energy Policy, 2021 to make transfer of land for setting up Solar Power and New and Renewable Energy Projects on lease,purchase,acquisition basis.
It also decided to increase the court fee from Rs. 6 to Rs. 20 for filing any application,petition in the Revenue Courts or applying attestation of affidavit or any other documents in Civil Courts other than High Court.
The Cabinet constituted the Atal Tunnel Planning Area and freezing of the Existing Land Use of Atal Tunnel Planning Area which includes revenue villages of district Lahaul-Spiti.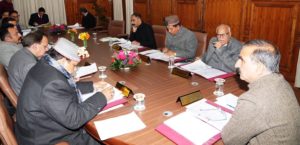 It decided to increase Certain Goods Carried by Roads (CGCR) tax on Tobacco in all forms including Pan Masala, Pan Chatney and preparations containing tobacco or tobacco substitutes from Rs. 3 per quintal to Rs. 4.50 per quintal.
It gave its approval to fill up 50 posts of Junior Engineer (Civil) and 30 posts of Junior Draughtsman in the Public Works Department, 15 posts of Assistant Engineers (Civil) and 50 posts of Junior Engineer (Civil) in the Jal Shakti Vibhag through direct recruitment.
It also gave its nod to fill up three vacant posts of Assistant Registrar Cooperative Societies in the Department of Cooperation and four posts of lecturers in Ayush Department through direct recruitment at Rajiv Gandhi Government Post Graduate Ayurvedic College Paprola, district Kangra.