Pact to integrate Himachal govt depts data under Him Data Portal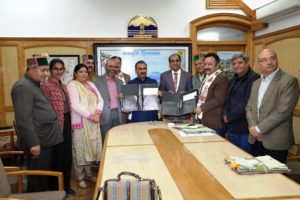 Shimla: A Memorandum of Understanding (MoU) was signed between the Himachal Pradesh government and the Indian School of Business (ISB) here today to develop a common platform 'Him Data Portal'.
The MoU was signed by Secretary IT, Dr. Abhishek Jain on behalf of the state government and Executive Director of the Indian School of Business, Ashwini Chhatre on behalf of the ISB.
The ISB would collaborate with the Department of Information Technology, as a research and technical support partner for building an open-source 'Him Data Portal'.
The portal will enable visualization of multiple data sets through advanced analytics and identity-access-management-controlled dashboards and reports to support the state's policy making and governance.
It will also strengthen the delivery systems through Him Pulse which would support and enhance the capacity of Him Parivar in linking digital identity to the delivery of benefits to the targeted population.
An official said Him Pulse is an advanced data analytics application designed to enhance governance, reach the last mile, and assess the inclusion and exclusion of welfare beneficiaries.
It would leverage a combination of real-time digital data on citizen interactions with government programmes and systems, high-resolution socio-economic profiles from multiple data sources, and satellite images for earth observation data.