Rohtang pass could open in March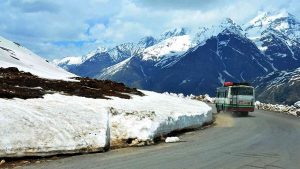 Shimla: Snow clearing has begun to open the mighty Rohtang Pass in March this year which will be a record.
Early opening of the 13,050 ft high pass is largely due to less snowfall this winter.The pass usually opens in May.Last year it opened on 23 May.
The Border Roads Organisation(BRO) looks after the 486 km long Manali-Leh high mountain highway.
BRO staff say the snow is far less than the usual mountains of snow at Rani nullah, Beas nullah and the Rohtang pass.
Once the Rohtang pass opens the BRO will continue to clear snow on the long road to Leh passing through several high passes.