Rare snow leopard caught on camera in Lahaul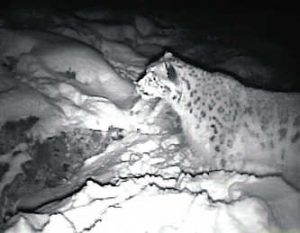 Shimla : The Himachal Pradesh wildlife department is excited after capturing video footage of the highly endangered and elusive snow leopard in remote tribal Lahaul valley.
"After seeing pug marks of the snow leopard in the area I placed a trap camera." said Shiv Kumar a forest guard and an amateur photographer .
"Later I was pleasantly surprised to find video footage of a snow leopard stalking a limping Ibex in the dead of night," Kumar told Sun Post by phone Tuesday.
"It was a night-vision camera enabling us to identify the rare snow leopard," Kumar said.
The spot where the footage of the big cat was seen is located at 2800 m above sea level some 2 km from Udaipur.
Lahaul & Spiti borders Tibet and is one of the most sparsely populated regions in India.
In winter the highly elusive snow leopard moves down to lower areas in search of prey.
The snow leopard is listed as endangered on the IUCN Red List of Threatened Species.The global wild population was estimated at 4,080–6,590 adults. The global population is estimated from at least 4,080 to about 8,700.
Snow leopards inhabit alpine and subalpine zones at elevations from 3,000 to 4,500 m.