Rahul Gandhi Dharamsala rally on March 8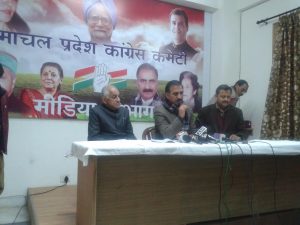 Shimla : Congress Vice President Rahul Gandhi will address an election rally in Himachal Pradesh's Dharamsala on March 8 .
"The rally will start at 11 am at the police ground. After this he will meet state party leaders followed by a meeting with ex-army people on the issue of one rank one pension decision," state Congress president Sukhwinder Singh Sukhu said here Monday.
Asked about Congress' candidates for the Lok Sabha polls Sukhu said a decision in this is expected very soon .
"The main condition for the selection of a candidate will be winnability," he said.
He did not rule out sitting ministers and MLAs from contesting the upcoming Lok Sabha polls.
Asked if Chandresh Kumari could be a candidate from the Kangra seat, currently she is an MP from Jodhpur and union culture minister.
"I do not rule out her name as she has been an MLA , minister and an MP from the state. Our criteria will be winnability, " he said .
Sukhu said since the Opposition BJP has been highly irresponsible in boycotting the recently concluded budget session of the Congress party will highlight this with the people in the coming days .
Wary of the Aam Admi Party(AAP) contesting all four seats he said every party has the right and freedom to take part in elections .