Punjab politician motorcade irks Himachal commuters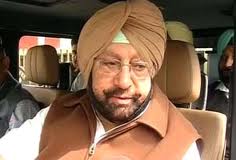 Commuters driving on the Shimla-Kalka highway on Wednesday were irritated and even scared by former Punjab chief minister Amarinder Singh's motorcade Wednesday .
 He was seen seated in his swanky car by several infuriated commuters driving on the busy highway .
I myself saw a pilot police vehicle of the Himachal Pradesh police waving menacingly to commuters to keep to the extreme left and let the motorcade pass by on the wide national highway near Tara Devi.
Ousted un-ceremoniously from the job of the Punjab PCC chief Amarinder is only a Congress MLA so why was he being provided a pilot vehicle by the Himachal police .
The motorcade consisted of some ten vehicles including commandos of the Punjab police and a pilot vehicle of the Himachal police .
This feudal culture of the Punjab often irritates people in Himachal Pradesh where these arrogant politicians come for a holiday and spread this despicable culture in the hills.