PHD chamber inks MOU with Pakistani chamber

Shimla : To promote cross border trade the PHD chamber of commerce and the visiting heads of the Rawalpindi chamber of commerce and industry from Pakistan signed an MOU here Monday in this Himachal Pradesh state capital.
"This agreement is a step towards enhancing cooperation among the industrialists , businessmen and entrepreneurs of India and Pakistan ," said Sandip Somany , president PHD chamber of commerce .
Dalip Sharma , regional director , PHD chamber said , "The main objective of this agreement is to contact investments and trade opportunities for traders on both sides of the border and to develop trust and transparency."
"The MOU will also promote marketing joint ventures ," Sharma said .
PHD chamber's five mega mart-an exhibition got underway in Shimla on Saturday .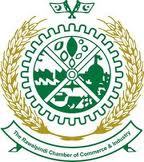 Attracting crowds it has artisans and craftsmen from the local industry exhibiting their products .
To add colour to the mart there are around 40 exhibitors from Pakistan displaying a wide array of products like garments , footwear , handicrafts , dry fruits , gems , stones , kitchenware , furniture and decorative items .
The Pakistani chamber has already held similar exhibitions in New Delhi and Chandigarh recently .