All Himachal roadways buses grind to a halt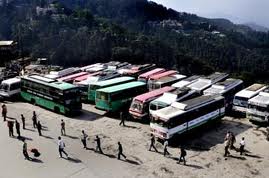 Shimla : Himachal roadways bus services were completely paralysed across Himachal Pradesh Tuesday in response to the Himachal Road Transport Corporation (HRTC) staff going on strike across the hill state .
The strike came into effect past midnight for 24 hours despite the government repeatedly calling the union leaders to call off the strike and hold talks.
In support Punjab , Haryana and Chandigarh roadways buses plying on Himachal roads also joined the strike for a couple of hours .
The 9000 strong HRTC staff is demanding converting the corporation into a department so that they become eligible for pension and other benefits .
They are also demanding regularisation of temporary employees after three years of service besides stopping further privatisation of bus routes .
HRTC bus services have already been affected for the past week as protesting drivers and conductors have not been working for more than eight hours in a day .
HRTC is the biggest loss making company in the state with an accumulated loss of over Rs 570 crore .
But HRTC is also seen as a social service provider with its buses plying in some of the most harsh mountain terrain in the country causing high fuel consumption and heavy wear and tear of buses .
Often some of the remotest villages in the hill state are connected by state roadways buses . Private buses often ply in the more profitable routes mostly in and around urban areas .
HRTC runs 2018 buses and mostly on long routes , inter-state routes and in interior parts of the state  . While 3200 private buses mostly run on shorter routes in the state .